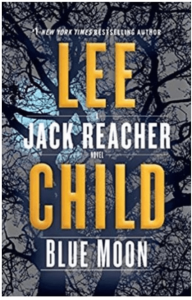 Lee Child created a colourful character, a retired military policeman, Jack Reacher. Reacher is the star of a whole series of detective/sleuth thrillers. He's a bit of gypsy, restless man who travels anywhere and everywhere across the USA. Inevitably, some discrepancy, out-of-place incident or a person-in-need grabs Reacher's attention and he's off on running on a case.
Synopsis
"This is a random universe," Reacher says. "Once in a blue moon things turn out just right."

This isn't one of those times.

Reacher is on a Greyhound bus, minding his own business, with no particular place to go, and all the time in the world to get there. Then he steps off the bus to help an old man who is obviously just a victim waiting to happen. But you know what they say about good deeds. Now Reacher wants to make it right.

An elderly couple has made a few well-meaning mistakes, and now they owe big money to some very bad people. One brazen move leads to another, and suddenly Reacher finds himself a wanted man in the middle of a brutal turf war between rival Ukrainian and Albanian gangs.

Reacher has to stay one step ahead of the loan sharks, the thugs, and the assassins. He teams up with a fed-up waitress who knows a little more than she's letting on and sets out to take down the powerful and make the greedy pay. It's a long shot. The odds are against him. But Reacher believes in a certain kind of justice . . . the kind that comes along once in a blue moon.
Richard's comments
Blue Moon is another solid effort from Lee Child. Written in his usually style of terse, clipped sentences, Child tells an appealing story with dynamic characters. He colours his narrative pallet wonderfully with hues of violence, sympathy, empathy and borderline romance.
Reacher in a dark life would make a terrific villain, physically massive, muscled dynamite with a long fuse. Readers who are familiar with the character will find him captivating once again. A good story, well told. Worthy of a #1 bestseller ranking, not so much but a bestseller nevertheless.