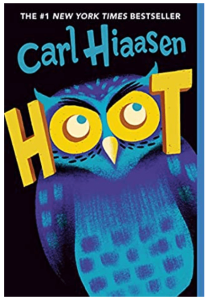 Carl Hiassen was a journalist/reporter working for a Miami newspaper for many years. He couldn't relieve the itch to write a book.  Lucky for us he wrote one, and then another, and another and another. Each book has written has been a hoot, if you will pardon me.
HOOT is another feather in his cap and another 'must-read' from Hiassen's vast library of hugely entertaining books.
 I discovered Hiassen by accident. While in Florida, I applied for an e-library card. The very affable librarian talked about the facilities at the branch, about the book clubs there and that Carl Hiassen was scheduled as a future guest speaker for one of them at this particular branch. Vacationers were welcome to attend the book club meetings as guest, so I thought I would bone up on Hiassen's work before attending. I have been a strong supporter of his ever since. The meeting was cancelled, so I never met the author.
Synopsis
Unfortunately, Roy's first acquaintance in Florida is Dana Matherson, a well-known bully. Then again, if Dana hadn't been sinking his thumbs into Roy's temples and mashing his face against the school-bus window, Roy might never have spotted the running boy. And the running boy is intriguing: he was running away from the school bus, carried no books, and–here's the odd part–wore no shoes. Sensing a mystery, Roy sets himself on the boy's trail. The chase introduces him to potty-trained alligators, a fake-fart champion, some burrowing owls, a renegade eco-avenger, and several extremely poisonous snakes with unnaturally sparkling tails.
Roy has most definitely arrived in Carl Hiaasen's Florida.
Richard writes…
Being a member of a book club forces one to read books that would not normally ever be considered as worthwhile reading material. The Florida holiday introduced me to my first Carl Hiassen's work, Razor Girl. The book was tremendously entertaining and led to other books, Bad Monkey, Basket Case and now HOOT.
Hoot, I won't try your patience, is a terrific little story, very engaging, a winner of a book. I borrowed the book one night as I thought I needed something to read and a few minutes of exploring Florida's Broward library's offerings led to Hiassen again. I am really pleased I borrowed the book. 
Hoot is a tale that any adult who reads the synopsis would think will be a waste of time, in no way worthwhile entertainment. How wrong they would be. HOOT engages the reader from the very first chapter. Readers who have been bullied in some way in their earlier lives will relate to the lead protagonist's school bus situation easily and will be increasingly curious as to how the boy copes or escapes the abuse.
Then Hiassen sprinkles his pixie dust on the reader, grabbing you with the description about the mysterious runner. Once Hiassen grabs you, he doesn't let go. His other books, particularly the sleuthing ones, have all had much more humour to them. This one is more dramatic, more serious but still surprisingly captivating.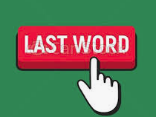 A reader can't lose with a Hiassen book. His sleuthing novels are classics of humorous writing with captivating cliches capturing the colloquial language of today's culture in the southern US, idioms and expressions which would be unfamiliar to most readers with Hiassen's scholarly skills become easily understandable and very appropriate. Each use adds colour and more flavour to the story. The reader is immersed in the milieu in which the story is set. As the story unfolds, Hiassen motivates and encourages the reader to swim to deeper waters of more colourful language, more unique characters and more comedic situations.
Read Hiassen. You won't be disappointed. Read HOOT. You'll enjoy it.