Category Archives:
WAG CRITIQUING
CRITIQUING is where WAG members can submit samples of their work for assessment, analysis and feedback by other WAG members.
WAG members interested in having their work examined should email their request to the CRITIQUING moderator, Sheila  Tucker at 
sheila.tucker@mail.utoronto.ca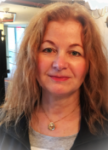 Sheila Tucker is the WAG Critiquing moderator. She is a published writer, author of the memoir Rag Dolls and Rags, a podcaster, poet and moderator of writer groups. She is an emigre from the UK and currently resides with her husband in southern Ontario. 
Message notifications and updates are posted below.
---