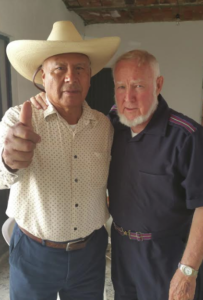 At mid-80, Todd Strong is supposed to be a retired US military engineer.
You'll have to tell that to the Mexican people around Lake Chapala as they pour fresh water from their taps into their drinking glasses.
In Todd's words, a description of what he is doing in the vacation area of central Mexico [The English translation follows the Spanish text] :
(La versión en inglés de este mensaje sigue a la traducción de la computadora al español. He insertado algunas comas adicionales para ayudar a la computadora a relacionar los verbos correctos con sus sustantivos. Los elementos adjuntos también están en español.)
Fue muy agradable hablar contigo y tu esposa en la plaza anoche.
Por favor, hágamelo saber si recibe este correo electrónico. Con demasiada frecuencia, una sola carta perdida en una dirección de correo electrónico lleva a ningún recibo.
Dos de mis hermanos más jóvenes ya han fallecido. Solo estoy en México porque Dios me colocó aquí hace 16 años para servir en las 43 aldeas rurales cerca del lago para el suministro de agua, tratamiento de aguas residuales, nuevos trabajos y para ser un oído para sus pruebas. Durante los últimos 10 años había estado en servicio voluntario similar en aldeas rurales en África y Asia.
Estoy 100% convencido de que México puede experimentar un gran crecimiento para todos sus ciudadanos y pasar por Alemania y Gran Bretaña en los próximos 10 años. Deseo compartir mis puntos de vista y tal vez continuar con mi servicio voluntario en varios temas. A continuación hay una breve lista de asuntos que estoy preparado para presentarles en detalle. ¿Puedo pedirle que me diga cuál de estos podría estar interesado en seguir leyendo? Usted ha sido una fuerza política importante en la conducción de este municipio durante décadas. Puede que sepa lo técnico, pero sabes lo políticamente posible. A continuación se presentan tres posibles asuntos que, si lo desea, puedo explicar en detalle sobre la viabilidad, las consideraciones técnicas y el costo.
1. Empleo: un plan para crear 1,000,000 nuevos empleos que se necesitan con urgencia en las zonas rurales de México, y la acuicultura en el interior es una de las áreas de crecimiento. Son posibles más de 30,000 empleos solo en el lago Chapala, si el 1% de la superficie se usa para jaulas flotantes de peces (5 toneladas / año de peces / jaula) como las que creé cerca de la isla de Mezcala. ¿Cómo llego a la oreja del presidente Obrador, Carlos Lomeli en Jalisco o incluso del gobernador Enrique Alfaro? Espero el apoyo del Secretario de Estado de EE. UU., Michael Pompeo, quien se graduó pocos años después de mí en la Academia Militar de los Estados Unidos en West Point, Nueva York.
2. Muerte infantil: un plan para salvar a muchos de los 3000 o más niños a lo largo de la costa noreste del lago que se encuentran en este momento en una de las 5 etapas de la enfermedad renal, con un 90% sin saberlo, con alrededor de 150 muertos cada año. El estado de Jalisco es el lugar # 2 en el mundo para esta enfermedad casi silenciosa.
3. Nueva agua para Chapala: un deseo de ofrecer un plan y detalles técnicos, para ayudar a Chapala a convertirse en la primera ciudad en el lago, a tomar medidas para salvar las vidas de los pobres que deben beber, agua de pozo que está mucho más allá Los límites de seguridad en metales pesados ​​(arsénico) y nitrógeno amoniaco. Dado que es económicamente imposible eliminar estos contaminantes peligrosos, en 8 o más de los pozos de la ciudad, es el momento de apelar al gobierno estatal y federal, para permitir que la ciudad comience a sacar su agua del lago, como se ha dicho. Hecho por más de 30 años para 3,000,000 de personas en Guadalajara. A su vez, el bombeo del agua a unos 10-20 metros del lago en comparación con el bombeo actual de hasta 200 metros de los pozos termales profundos, ahorrará a la ciudad un 60-90% del costo de electricidad cada año. Este desafío del agua de pozo tóxico, ha acortado en silencio la vida de los ciudadanos de Chapala durante décadas. De hecho, el grado de letalidad es menor en Chapala que en las aldeas a orillas del lago en Poncitlan, que tienen sus pozos en rocas volcánicas aún más calientes, de donde provienen estos metales pesados ​​mortales y nitrógeno amoniacal. La clave es que Chapala podría convertirse en el LÍDER, en el caballo blanco, para todo el lago, donde una muerte similar está cobrando la vida de las personas en otras ciudades, que extraen agua caliente de la roca volcánica. Sí, puede tomar de 1 a 2 años obtener la aprobación de CEA y CONAGUA. Pero, el público sabrá rápidamente, todo sobre el lago, que fue Chapala la que abrió el camino, para garantizar agua segura para todos los 300,000 ciudadanos del lago.
Por favor, vea fotos adjuntas y una vista simplificada de una página de mi experiencia.
Dr. Todd D. Stong
Ingeniero Profesional con Licencia
Coronel, Cuerpo de Ingenieros de los Estados Unidos (30 años)
Ingeniero Voluntario para Asuntos de Aldeas Rurales (26 años en África, Asia y América Latina)
_____________________________________________________________
It was quite nice to speak with you and your wife at the plaza last night.
Please let me know if you receive this email. Too often a single missed letter in an email address leads to no receipt.
Two of my younger brothers have already passed on. I am only in Mexico because God placed me here 16 years ago to serve in the 43 rural villages about the lake for water supply, wastewater treatment, new jobs and to be an ear for their trials. I had for the previous 10 years been in similar volunteer service in rural villages in Africa and Asia.
I am 100% convinced that Mexico can experience great growth for all of its citizens and pass by both Germany and Britain in the coming 10 years. I wish to share my views and perhaps continue my volunteer service on several topics. Below is a short list of matters I am prepared to present to you in detail. May I ask you to tell me which of these might be of interested in reading further?  You have been a leading political force in guiding this municipio for decades. I may know the technical, but you know the politically possible. Here below are three possible matters which if you wish I can explain in detail as to feasibility, technical considerations and cost.
Employment: A plan for creating 1,000,000 new jobs urgently needed in rural Mexico, with in-land aquaculture being one of the growth areas. Over 30,000 jobs just on Lake Chapala, are possible, if 1% of the surface is use for floating fish cages ( 5 tons/year of fish/cage) like those I created near Mezcala Island. How do I reach the ear of President Obrador, Carlos Lomeli in Jalisco or even Governor Enrique Alfaro? I expect the support of USA Secretary of State, Michael Pompeo, who graduated just a few years after me from the US Military Academy at West Point, New York.
Childhood Death: A plan for saving many of the 3000 or more children along the north east shore of the lake who are at this time in one of the 5 stages of kidney disease, with 90% not knowing it, with about 150 dying each year. Jalisco State is the #2 place in the world for this near silent disease.
New Water for Chapala: A wish to offer a plan and technical details, to assist Chapala in becoming the first city on the lake, to take action to save the lives of its poor who must drink, well water that is very much beyond the limits of safety in heavy metals (arsenic) and nitrogen ammonia. Given it is impossible economically to remove these hazardous pollutants, in 8 or more of the wells in the city, it is time to appeal to the state and federal government, to permit the city to begin taking its water from the lake, as has been done for over 30 years for 3,000,000 people in Guadalajara. In turn, the pumping of the water about 10-20 meters up from the lake versus the current pumping of up to 200 meters from deep thermal wells, will save the city 60-90% of the cost for electric each year. This challenge of toxic well water has been silently shortening the lives of the citizens of Chapala for decades. Indeed, the degree of lethality is less in Chapala, than faced with lakeside villages in Poncitlan, which have their wells in even hotter volcanic rock, from which come these deadly heavy metals and nitrogen ammonia.  The key is that Chapala could become the LEADER, on the white horse, for the entire lake, where similar death is claiming the lives of the people in other towns, which draw heated water from volcanic rock. Yes, it may take 1-2 years to gain CEA and CONAGUA approval.  But, the public will know quickly, all about the lake, that it was Chapala that led the way, for assuring safe water for all 300,000 citizens about the lake.