Many people have bucket lists, lists of dreams they would like to see fulfilled in their lifetimes. My husband, Gary, had one item of his bucket list completed…
A Daytona Experience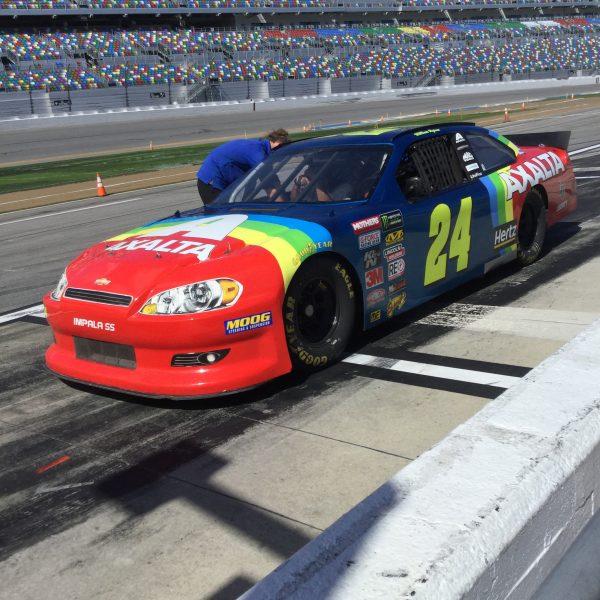 What would life be without a "Bucket List?" To me, a Bucket List is a dream list to make into reality one day. But that is not the case for everyone; my husband is one of those. His primary passion, besides his family, of course, is cars. Cars of all shapes and sizes, fast cars, slow cars, new cars, old cars and classic cars, all interest him. NASCAR races are always a huge interest for him, along with the drivers sitting behind obscured windshields.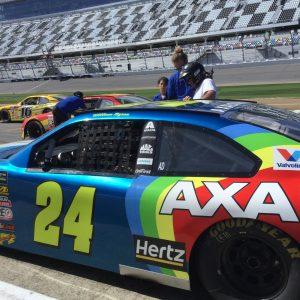 Gary had a golden opportunity to make one of his dreams come through when we were in the Daytona area in the winter months. The Daytona 500 in February was rained out and subsequently cancelled. 
For a few days after this race, Richard Petty runs a car clinic on the Daytona racetrack for a nominal fee for which one can experience speed, the sensation of turning in the banks, and the entire racecourse first hand. All one has to do is sign up, pay the fee, learn a few quick rules, and one is good to go. We arrived in the in-field through a tunnel that snaked under the racetrack.
Gary was the most excited "mature" driver who lined up with many young people to buy his ticket. There was a contagious, electric aura about him as he moved from one line to the next, from one platform to the next.  Headgear was the first item he tried on. The helmet was attached to the Hans device, which in turn, was strapped to the back of his seat. In this way, his head was not able to wobble or jerk around if the speed was too high. He had a choice of drivers. He chose a race car with a pro-driver rather than a self-drive. He requested Car #24, which belonged to Jeff Gordon and raced it in Daytona 500 in 2012.  Gary based his choice on the fact that driving with a driver allowed him to truly enjoy the accelerations and the G forces, especially in the high bank speed turns.
As car #24 coasted to the edge of the platform, it was Gary's turn to climb in through the open window. Each driver had service personnel whose job was to guide the passenger to and from the car without taking his hand off his shoulder. Once Gary was seated on the passenger side, I saw him shake the pro driver's hand. I wondered if it was an introduction or a reminder to deliver him safely back to the platform after his race. He was buckled in tight with a strap over his chest, over his lap, and around the head-neck area. There was no room to move around. He could not move his head from side to side to look around. Star Wars flashed in front of my eyes.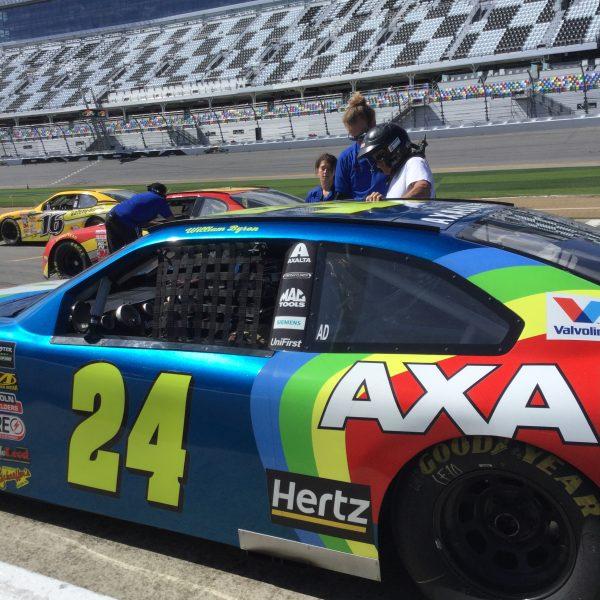 The pro driver, Mark, answered any questions Gary had before they embarked on this extraordinary journey. Mark revved the engine to a deafening decibel, the tires squealed, black rubber flashed, and they were gone!
By the second turn, the car reached a maximum of 180 MPH speed. They completed three laps on the racecourse. Car #24 whizzed by me in an instant so that my camera was not able to record it.  The exciting part for Gary, as the passenger, and for me as an observing fan, was that the driver reached the desired speed so quickly and with masterful skill took the car up the banks of the curves, he banked in every corner, and they passed all the self-drivers. They were mostly hugging the inner track. Gary got a good taste of how racing feels and looks from inside a car and how split-second decisions could make or break a race.
Three laps were over in three minutes, I am sure. As car #24 pulled into the bay, Gary had a broad smile on his face as he just completed a thrill of a lifetime. He was one happy, exhilarated and excited customer. For a keepsake, he took away two lug nuts that were used by Jeff Gordon in his race cars.
Gary has many good memories of NASCAR. He has done everything there is to do in NASCAR. He walked the course; he took a guided tour of the course; he enjoyed an exciting race at Daytona 500 a few years ago, and he spoke to several drivers in the in-field, and now he drove in car #24. How much better can a Bucket List get?
Not much! But it makes life interesting.
Éva H.